Uta J. Schmidt
University of Greifswald
Central message: NGOs as potential interface between society, politics and economy are one promising player for reducing animal product consumption. However, the contribution of German NGOs in this field is mainly restricted to animal welfare and environmental organization; whereas NGOs working in the field of food security and health are restrained in this topic due to i.e. the dependence on financial means from the government, donors and members.
The high and further increasing consumption level of animal products worldwide has various environmental, social and health consequences. One of the most problematic aspects of animal products is the enormous energy loss during processing feed to meat and milk. As a result large intensively used agricultural areas are necessary to feed animals (Fig. 1) which leads to biodiversity loss, greenhouse gas emissions, land grabbing and health problems due to pesticide usage. Furthermore, high water usage, competition between food and fodder, as well as inhumane treatment of animals, and threats to human health by e.g. coronary heart diseases and antibiotic resistance are consequences of a meat-rich diet (i.e. FAO 2006 und www.fao.org/livestock-environment/en/).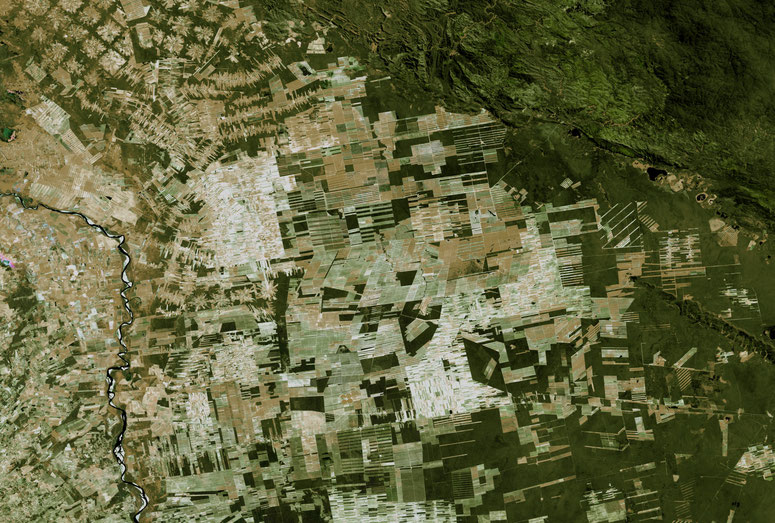 Fig. 1 - Satellite image of deforestation of rainforest in Bolivia. Large areas are converted to agriculture, primarily to grow soybeans (© NASA/Goddard Space Flight Center Scientific Visualization Studio)
Reasons for this high and increasing animal product consumption include personal, social, economic and political as well as structural factors (see Stoll-Kleemann and Schmidt 2017). Non-governmental organizations (NGOs) as part of the so called Third Sector, besides politics and economy, and representatives of the society are a vital player in national, international as well as earth system governance. They are mostly supported by the society or at least by parts of it and can put pressure on political and economical protagonists through public relations activities and other means. Thus, NGOs as potential interface between society, politics and economy are one promising player for reducing animal product consumption. In detail, NGOs being potentially interested in reducing animal product consumption in industrialized countries include those targeting to protect the environment, improve the world nutrition situation, care for animal ethics and enhance the health status. This is because of its above named multidimensional consequences.
However, according to previous studies, there is a limited degree of engagement in encouraging reduced meat consumption of NGOs in Europe and more specifically of environmental NGOs in Sweden, Canada and the U.S. in light of climate change (i.e. Laestadius et al. 2013). Analysing the engagement of NGOs which should have an interest in reducing animal product consumption (see above) is an attempt to foster one important pathway for sustainable nutrition patterns.
Research is conducted in the framework of a doctoral thesis and included the material analysis of 34 NGOs, 22 expert interviews with NGO staff and a focus group discussion testing the preliminary results of the interviews. Spatially the research was limited to German NGOs. The whole research process is embedded into the Grounded Theory approach aiming to develop a new model or theory to explain the extent of how NGOs thematise animal product consumption in their campaigns.
Results indicate that animal welfare organizations are most active in encouraging a reduced consumption of meat and dairy products and most environmental NGOs also plead for more sustainable nutrition habits. However NGOs working in the field of food security and health are restrained in this topic. The main reason can be detected in the dependence on financial means from the government, donors and members. But there are also factors like the division of responsibility and the competition between NGOs which impede an engagement in reducing animal product consumption.
The strategies NGOs apply to advocate a reduced animal product consumption mainly include public relations work through information on their websites as well as petitions and demonstrations; but also lobbying to change political and societal frameworks. More cooperation and coordination between NGOs of different disciplines is demanded to be able to compete with the economic and political sector.
Thus, next steps for decision makers of the Third Sector include creating networks between NGOs aiming to reduce the consumption of animal food products as well as between NGOs and research partners (see www.nahhaft.de for an example), politics and economy. Additionally, NGOs working in the field of food security and human health should be encouraged to include the topic of animal products in their portfolio of measures. As NGOs depend on financial means of their members, donors and sponsors, each sector of the society (individuals, economy, politics, third sector) has to play a role in fostering a more sustainable diet regarding animal products.
The research fulfills the criteria of sustainability science, i.e. normativity, cooperation of natural and social scientists, inclusion of nonscientists, and urgency, which are recognized as inherent to a new scientific approach, appropriate to the current environmental and social challenges. Research about the sustainability work of NGOs is predestined for the possibility of getting from knowledge to action.
References
FAO (2006) Livestock's long shadow. Environmental issues and options. Food and Agriculture Organization of the United Nations, Rome.
Laestadius LI, Neff RA, Barry CL, Frattaroli S (2013) Meat consumption and climate change: the role of non-governmental organizations. Climatic Change 120: 25-38. doi: 10.1007/s10584-013-0807-3.
Stoll-Kleemann S, Schmidt UJ (2017) Reducing meat consumption in developed and transition countries to counter climate change and biodiversity loss: a review of influence factors. Regional Environmental Change 17: 1261-77. doi: 10.1007/s10113-016-1057-5.